BROKEN NECK AND BACK CAN'T KEEP AUSSIE AWAY FROM HIS PIONEER DREAM
30 July 2019
---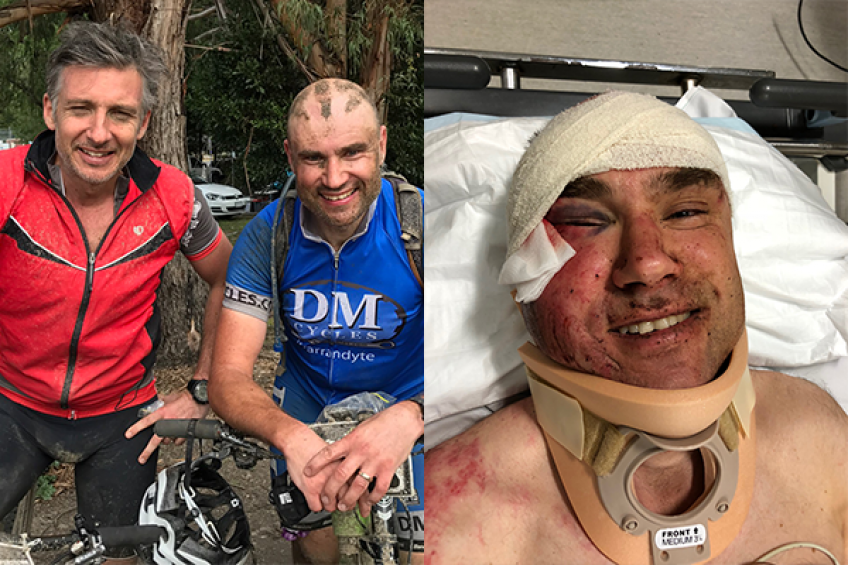 Stephen Goodall remembers little of the mountain bike crash in September last year that left him with a broken back, broken neck, a significant concussion and a hazy week in Royal Melbourne Hospital, but in December will put it all behind him when riding in The Pioneer Mountain Bike Race, fuelled by Nutri-Grain.
What should have been a run of the mill ride with Pioneer partner Martin Rostron ended their chances of riding in 2018 and could well have ended Goodall's life or left him paralyzed, but fast forward 10 months and this gutsy 49-year-old teacher is back on his bike and ready for the 2019 edition.
"We were out training at the start of September, and we had been up a long fire trail ride near King Lake and we were riding back and had backed off the pace," said Goodall. "I honestly then don't remember what happened or the week in hospital that followed, whether it was an animal that came across or if I washed out the front wheel, but I hit the ground and was unconscious for about ten minutes. I broke my T11 vertebrae with a three column break all the way through and had a break where the spine attaches to the base of the skull, so I was very unlucky in that the accident happened where we had ridden dozens of times, but lucky in that the accident and outcome could have been so much worse."
Goodall doesn't like to spend too much time contemplating just how much worse the outcome might have been.
"It is hard to say, the 3-column break of the vertebrae means it is broken right through, but it must have been stable because apparently I walked down to the ambulance where they strapped me to a board and put me in the ambulance. But apparently I wanted to ride home! I had quite a bad concussion and I don't remember most of that first week in hospital.
Despite the severity of the broken bones, the recovery did not include surgery and has been largely smooth riding.
"There have been no long term effects, the thing I worry about most is the head injury, you get some moments when you forget something but I can't tell if it is due to the accident or just me being forgetful like I have always been.
"There was no surgery, I had a neck brace on for about eight weeks and a back brace on for about 10 weeks, but I was lucky it was all fairly stable, and I didn't need any surgery. In fact, the worst thing for me at the time was a tendon pulling away from the bone in a finger and breaking the bone at the attachment point, I had the finger brace on for longer than the neck and back."
Goodall says there is however clearly a lasting effect on his riding style.
"I am much slower riding downhill now and much more aware of the risks and take things a lot slower. I have just put a dropper post on my bike so hopefully that will help with regaining confidence going through corners and I am much more aware if the traction is not quite right and being more careful. The first time going down the fire trails was scary and took me a while to get into it, but I got back into it and have been riding since."
Surely such a crash and the severity of the injuries would make anyone think twice about taking on a six-day event such as The Pioneer?
"There was never any doubt I would be back, I got back on the stationary trainer while in the neck and back brace, I ride a lot so found that a great way to stay fit and active. I do the six-hour endurance series here and I have done two of those this year, they are quite good on loops and you gain confidence repeating the same lap.
"I am 100% cleared by the medical team, I did have six months when I couldn't drive as there was some suspicion that I might have had some sort of fit that caused the crash. But the doctors are pretty sure it was just the crash that led to the concussion and I have not had any neurological issues since.
"I haven't had to go back to orthopedics about the back and neck. They did say they might normally advise for people with this injury not to go back out and do these sorts of things, but they said they know cyclists are slightly mad, so they didn't even try!"
The Pioneer, Fuelled by Nutri-Grain, has been on Goodall's mind for some time, with the two-person team aspect appealing.
"I have done the Trans Pyrenees in Spain and really enjoyed that and have been looking for something similar, I did that solo so was looking for something to do with a mate which will be really good to push ourselves and see how we go. We are not aiming to finish on top of the podium, it is just to enjoy ourselves.
"Martin and I live fairly close in North Eastern Suburbs of Melbourne and we have been riding together for five or six years. We have the option of riding road or mountain bikes straight out the door is great for us and gives us options."
Goodall has enjoyed good support from family and work to chase his Pioneer dream.
"My family has been really good, and work has been good about it as well. My wife Sophie is a GP and she rides socially for fitness and takes the view that if I wasn't riding I would be harder to live with, so it is a good thing for me to stay riding and stay fit!"
Goodall continues to monitor the effects of the head knock.
"I had a concussion about two years ago, I have only ever had two, the first one wasn't nearly as bad but this one I blacked out for a good ten minutes. I do worry about it with my father having Alzheimers, and I know that issues like this don't improve your outcomes for various issues like that."
Goodall is matter of fact about his delayed path to the Pioneer start line and can't wait to see the race unfold.
"I am not hugely emotional, it will be really good to do and I am looking forward to a really good experience, how it all runs and seeing New Zealand because I haven't spent time in New Zealand before and this will be a great introduction to some areas of New Zealand that I am interested in."
"The support from the medical team at Royal Melbourne was amazing as was the understanding from the team at work (Whitefriars College). I am just grateful to them and to my family to be back on the bike and enjoying my riding."
Stephen and Martin will be amongst a strong contingent of Australians riding in the Pioneer, part of the global EPIC Series of mountain bike events, with close to 100 expected to cross the Tasman for the six-day race through the Southern Alps and Central Otago.