BURROWS SHOWS HER FIGHTING COURAGE AS SHE EYES UP LEGEND MEDAL
21 March 2019
---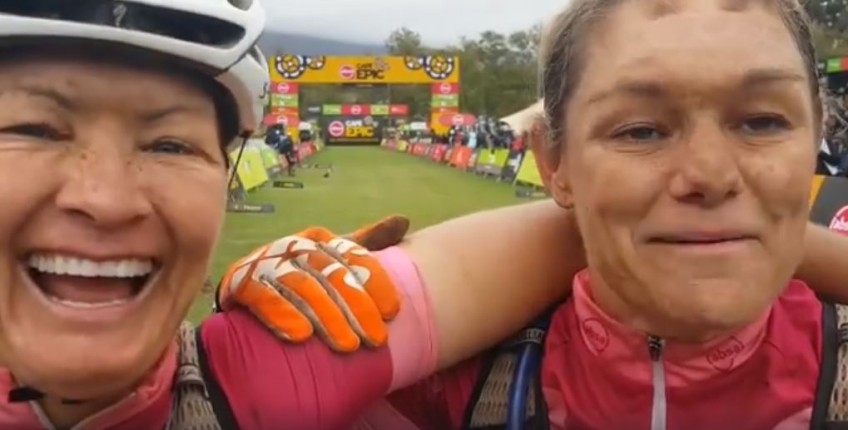 Kylie Burrows (NZL) and Sarah Kaehler (AUS) are amongst the more animated teams at the Absa Cape Epic. Well known already to The Pioneer for their incredible drive and spirit, Burrows needs to complete this week's Cape Epic to earn her Legend Medal, for riding all three of the Epic Series races, the Pioneer, Cape Epic and Swiss Epic.
Burrows is already renowned for her fighting spirit and attitude to life. Burrows rode the 2017 Pioneer only to find out a month later that she had stage 3 aggressive breast cancer. Famously on that occasion she said: 'In 2018 I won't be carrying any hitchhikers in my system, bugger off Cancer!' 
In remission, Burrows indeed returned to conquer the 2018 Pioneer, adding that to numerous mult-stage races in Australia, the Swiss Epic, and a women's masters win with Kaehler at the 2017 Pioneer.
Burrows and Kaehler were all smiles and tired legs upon completing Stage 3 of the Epic, the infamous climb over Groenlandberg above the Elgin Valley.
"The legs are a bit tired and I have a bit of a sore knee today which was giving me a bit of grief on those rocky climbs, but we are feeling pretty good today. The second day nearly killed us but today was better and we are looking forward to tomorrow," said Burrows.
Burrows is not yet through all three Epic Series events but already has noted the differences in the three races.
"They are very different, Swiss was really technical, the climbs were easier but really technical descents. Pioneer was a mixture of both, this here is very similar to Australian roads, the dirt and terrain is very similar. We thought there might be more single track here and we don't find this very technical so far."
Burrows might be chasing membership of an exclusive club, but she was quick to point out they are also looking to get Kaehler to the Swiss Epic and her own Legend Medal.
"It is and we are going to try and get Sarah there next year, if our wonderful Cable Logging supporters give us some more funds we might get there. My brother and his wife and their business partners help us out, they put money towards entry fees and stuff and help us along the way, it is amazing, we couldn't do it without them.
If Kaehler feels any pressure to get Burrows home and to that medal, she wasn't showing it and was perhaps a little too keen to offer her bike in a case of emergency.
"I am here to support her no matter what, I did say to 'Kiwi' whatever happens, if anything happens to your bike you can have mine and I can just withdraw, like as long as we get her to the end, that is all that matters! I will sit on the side and have a beer and watch!
"Every day we are trying to go into this as an adventure for us both. As much as we want to race it and just ride hard the whole time, we kind of don't get to see the scenery. So, we are pulling back a bit and try to enjoy every moment even though some of the climbs are hard to do and you don't want to look up, but we are just trying to have fun along the way."
"I know there are still a few more days to go, but we are getting closer to the end and we are basically half way through it, we will get there in the end."
Burrows is loving every moment on the trails and the support and recognition from other riders.
 "There are not so many female teams here, but we are getting great support from the men around us, they are always encouraging and telling us we can do it, they know us and are yelling at us, so that has been good, we are being spoilt by them."
To follow team Cable Logging Geraldine #211, visit www.cape-epic.com or download the official app EPIC SERIES at the App store or to your android phone.