FORMER ROADIES LEAD THE WAY ON OPENING DAY OF PIONEER
5 February 2017
---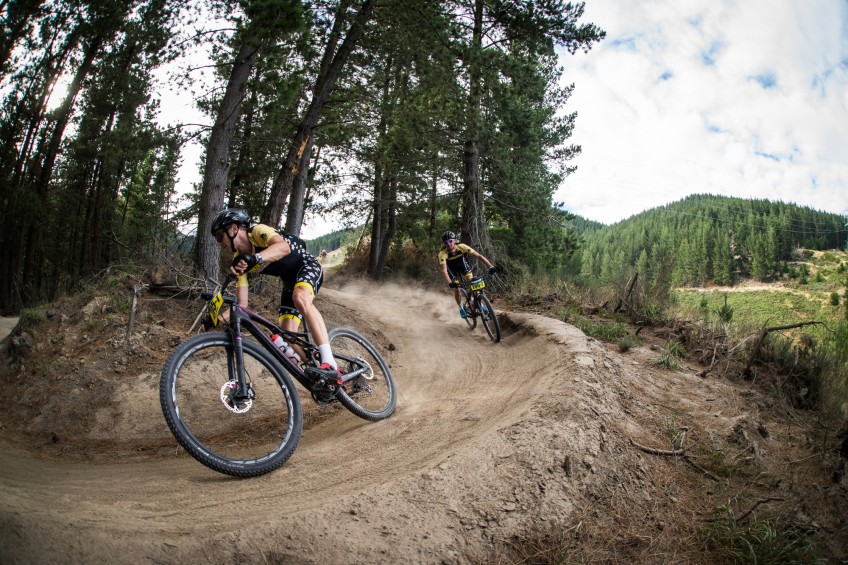 The 2017 Pioneer Mountain Bike Stage Race got underway in spectacular fashion at Christchurch Adventure Park today, with the 338 riders enjoying the thrill of single track riding in the event's opening stage prologue in perfect weather conditions.
At just 20.5km and featuring 1,260m of climbing, today's stage was but a teaser of what is to come, with a further 525km of riding across stunning landscapes on the way to the finish line in Queenstown on Saturday. It was understandably for the leading contenders then a day of controlled aggression, rather than all-out attack.
Quickest of the 7-Day-Epic teams was the Watson and Son Manuka Honey combination of James Williamson (Alexandra) and Scott Lyttle (Masterton but now based in Boulder USA), the former pro road cyclists clocking 1:16:02 to finish 53 seconds ahead of the first of the international teams, Tommi Misser and Ibon Zugasi (Imparables, Spain), with Oamaru brothers Tim and Kris Rush (Alps to Ocean) 5:40 behind in third place.

2012 Elite National Road Race Champion Williamson was delighted at the chance to ride in the Adventure Park.
"This is brand new for us, my first ride here was yesterday, I have done a little in Christchurch before but today was pretty special, to be blasting through those new tracks, it was a lot of fun."
Former pro road rider Lyttle was pleased with the first up effort, but is wary of what is to come in an event the likes of which he has never taken on before.
"We have both done a lot on the road, but that was a while ago – the last time I was racing was 2011 and while the body does remember a little bit what to do, I hope it does this week, but in terms of the mountain bike I really have not done anything like this at all. But we have done the training and we are hopeful of doing well.
"Today was about setting up the week, absolutely, we didn't want to go too deep or do anything silly, you can't win the Pioneer on day one but we did not want to lose too much time either. Hopefully we can recover before the start tomorrow, get our feet up and relax – that is the goal for the whole week, try and stay in good shape and do our best each day."
Misser and Zugasi's effort to be second fastest overall is all the more impressive, as they lead the Men's Masters (40+) category. Part of an eight strong Imparables team from Spain with a television crew following their every move, the pair also ride for the Orbea Factory Team and are legendary in Europe. Misser is a 15-time Spanish national champion and multiple World Cup Downhill winner.
"We enjoy a lot, the track is really amazing," said Misser. "The uphill and the switchbacks and then on the top the downhill was very fun. The views were beautiful, at the top we can see the other side of the mountain and the city below, it was very beautiful and an amazing way to start the race."
Leading the Open Women's category is Christchurch pairing of Nina McVicar and Reta Trotman. The two immediately showed the pre-race talk of them as contenders to be accurate as they put almost two minutes on defending champion Erin Greene (Queenstown) and her new riding partner Ingrid Richter (Nelson). McVicar and Trotman rode with great control, finishing the two-lap course in 1:35:04.
In the Open Mixed Category, Americans Sonya Looney and Gordon Wadsworth (Team Freakshow) have thrown down an early challenge to defending champions Kate Fluker and Mark Williams (Queenstown), with the colourful American pairing coming home just 52 seconds behind the Kiwis, with the two combinations clearly the class in the category, with third place nearly 27 minutes back after the first stage.
The Adventure Park proved a hit with the riders on prologue day but also with the recently opened facility. Communications Manager Anne Newman was thrilled at the sight of so much activity and international visitors to the Park.
"The Pioneer Mountain Bike race was the first international event we have held in the Park and what a great event to start with! The park came alive this morning and the quality of the riders that the Pioneer has attracted is truly impressive. The riders have an exciting week ahead of them and we'll be watching progress and cheering them on. We can't wait to see them back here next year."
Riders in both the 7-Day-Epic and 4-Day-Traverse rest up at the event village in Geraldine this evening, enjoying a buffet dinner, massage, a few drinks and stories from the opening day's riding as they prepare for the 106km ride (2,480 metres of elevation) to Fairlie on Waitangi Day Monday.
The Pioneer Mountain Bike Stage Race Results
Stage One
Prologue, Christchurch Adventure Park
20.5km, 1,260m elevation
Full results CLICK HERE
Open Men
1 Watson and Son Manuka Honey, James Williamson & Scott Lyttle NZL, 1:16:02
2 Alps to Ocean, Tim Rush & Kris Rush NZL, 1:21:42
3 Cyclist Magazine, Alex Malone & Michael Cameron AUS, 1:25:07
Open Women
1 Hirepool, Nina McVicar & Reta Trotman NZL, 1:35:04
2 Sujon Thermatech, Erin Greene & Ingrid Richter NZL, 1:36:40
3 Amy/Haley, Haley Van Leeuwen & Amy Hollamby NZL, 1:39:57
Open Mixed
1 Team New World, Kate Fluker & Mark Williams NZL, 1:26:05
2 Freakshow, Sonya Looney & Gordon Wadsworth USA, 1:26:57
3 Dated loaf and pikelet, Rob Garden & Marquita Gelderman NZL, 1:53:43
Masters 40+ Men
1 Imparables 2, Tommi Misser & Ibon Zugasi ESP, 1:16:55
2 222 Racing, Chris Clark & Gary Hall NZL, 1:23:23
3 GU Iride NZ, Yuri Hauswald USA & Andrew Young NZL, 1:27:43
Masters 40+ Women
1 Cable Logging Geraldine, Kylie Burrows & Sarah Kaehler NZL, 1:55:47
2 Dumb and Dumber, Annie Cooper & Delia O'Malley NZL, 2:08:46
3 Peak Flow, Karolyne Dunn & Cath Watson NZL, 2:09:04
Masters 50+ Men
1 Forensic Plus One, Robert Watson and Bernie I'Ons, AUS, 1:37:21
2 Centaur, Paul Muldoon & Grant Tyrrell, NZL, 1:39:58
3 Crisis, What Crisis, Greg McWhannell & Peter Lockwood, NZL, 1:41:33
Masters 60+ Men
1 Canadian EH!, John Cockburn & David Lech, CAN, 2:16:52
2 Team on the Rivet, Kevin Stobbs & Bruce Whale, NZL, 2:30:56
3 Powered by Pinot, Mark Moores & Andrew Gordon, NZL, 2:34:31
4-Day-Traverse Men - overall
1 Manolo Zanella, 1:20:35
2 Nathon Wright (Masters 40+), 1:23:00
3 Andy Cartwright, 1:24:48
4-Day-Traverse Women – overall
1 Amy Haddon, 1:42:19
2 Harriet Beaven, 1:43:47
3 Kylie Lindsay, 1:43:59
For more information contact:
Andrew Dewhurst, Media Manager, The Pioneer
+64 (0) 21 535501, andrew@gracieproductions.co.nz
About IRONMAN
A Wanda Sports Holdings company, IRONMAN operates a global portfolio of events that includes the IRONMAN® Triathlon Series, the IRONMAN® 70.3® Triathlon Series, 5150™ Triathlon Series, Iron Girl®, IRONKIDS®, six of nine International Triathlon Union World Triathlon Series races, road cycling events including the UCI Velothon Majors Series, mountain bike races, premier marathons and other multisport races. IRONMAN's events, together with all other Wanda Sports Holdings events, provide more than 680,000 participants annually the benefits of endurance sports through the company's vast offerings. The iconic IRONMAN® Series of events is the largest participation sports platform in the world. Since the inception of the IRONMAN® brand in 1978, athletes have proven that ANYTHING IS POSSIBLE® by crossing finish lines at the world's most challenging endurance races. Beginning as a single race, IRONMAN has grown to become a global sensation with more than 260 events across 42 countries. For more information, visit www.ironman.com.
About Wanda Sports Holding
Wanda Sports Holding is the world's leading sports business entity, founded to capture the opportunities in the global sports industry and to contribute to the prosperous international sports landscape – in three key areas: 1) Spectator Sports (media & marketing business), 2) Participation Sports (active lifestyle business), 3) Services (digital, production and service business). Led by President & CEO Philippe Blatter, Wanda Sports Holding incorporates the international sports marketing company Infront Sports & Media, the iconic endurance brand IRONMAN, and Wanda Sports China. The headquarters are in Guangzhou, China.