OLYMPIC GAMES ROAD CYCLING STAR LINES UP IN PIONEER
17 July 2018
---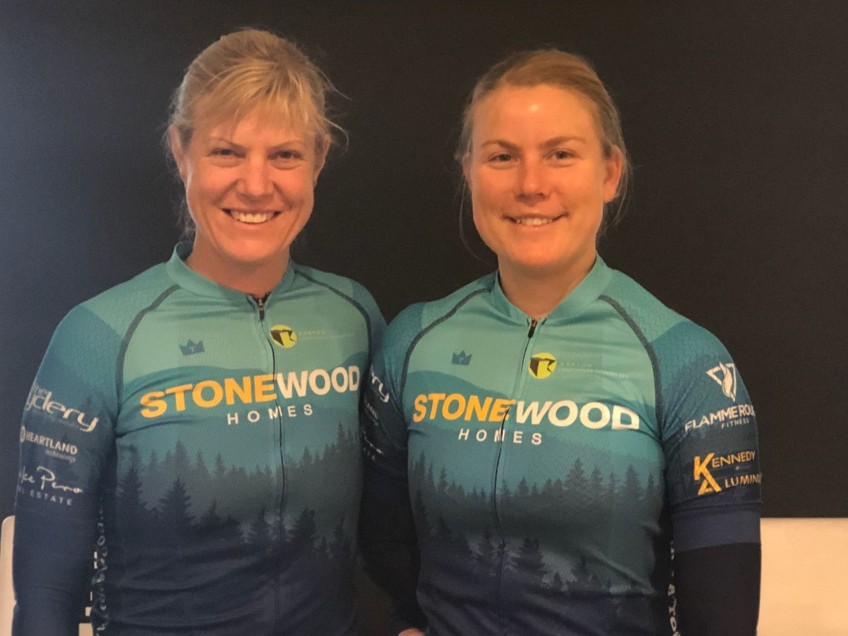 The open women's category at the 2018 Pioneer Mountain Bike Stage Race might have found an early favourite, with news that 2017 third place getter Amy Hollamby has convinced multiple Commonwealth Games and World Championships road cycling medalist Linda Villumsen to join her this November.
Timaru's Hollamby was set to make her return with her brother Chris (Karton) in the open mixed category, but a back injury has seen him withdraw, opening the door for Villumsen to join Hollamby in November, in team Stonewood Homes.
"Linda's partner Emma is my coach, we know each other through that connection and she had mentioned Linda had bought a mountain bike and was loving riding the trails in Christchurch," said Hollamby. "When Chris withdrew, the first person I thought of was Linda and while I didn't think she would do it, she came back straight away saying she was keen."
33-year-old Villumsen is one of the world's premier road cyclists, adding a silver medal at the 2018 Gold Coast Commonwealth Games to an already glittering CV that includes success at World Championship level and multiple Olympic Games representations, but admits to going out of her comfort zone on the mountain bike.
"The problem was I said yes straight away and then started thinking about it afterwards. It is a whole new world, I have been on a mountain bike a little, but it is so different from the road. I have been told that it is a lot harder than 100km on the road and it will certainly be a challenge. It is probably only just sinking in how much harder it will be with the technical aspects. But Amy is so competitive and so am I, I know we will wind each other up trying to get training in and prepare, that is for sure.
"It is such a bummer with Chris not being able to ride, so I am just happy Amy still gets to the do the race."
Hollamby rode with Haley Van Leeuwen to a podium finish in the 2017 Pioneer and won both the time trial and road race events at the New Zealand age group nationals earlier this year and like Villumsen, prefers the road to the trails but is looking forward to forging a new partnership.
"We are both roadies, I have done a little bit of mountain biking and Linda even less. We have ridden together on the road a little, but our plans are to ride together on the mountain bikes over the coming months, especially when the weather warms up a little.
"I know from riding in 2017 that the mountain bike is a long way removed from the road. Riding close to a wheel on a mountain bike is totally different to riding to a wheel on the road. That is where Linda will call on my strength and experience having ridden previously, she will rely on me for advice in that area. I will call on her strength in endurance riding and lasting the distance, because it will be tough to back up day after day with five-hour plus rides and keeping up with each other."
Hollamby knows how tough this event is but is equally keen on the social side of an event that has quickly garnered a global reputation for its friendliness and attention to detail for every rider.
"While our competitive side will come out we love the social side as well, and whether you are a recreational cyclist or in the box the whole way, you all go through the same hurt regardless. It won't be an easy week, but we are looking forward to the end of each stage and looking back at the photos and video and reflecting on the amazing countryside and trails that we are riding.
"The last Pioneer was amazing, I loved every minute, everything about it was great, the organization, the event location, the villages and the places you get to ride – you will never get to ride them again as they are over private land.
"I was coming back regardless of the location, it is something I was always going to do again. The new location in Queenstown brings a new element to it and looking at the event profile and villages it is exciting that everyone can be so close to the action. I will bring my husband and two children along for the week, it is great they can be so close and support me."
Villumsen may not be experienced on the mountain bike but has heard plenty from previous Pioneer riders.
"The whole experience and challenge will be amazing, I have never been mountain biking in the Queenstown area, so to see the beautiful scenery will be great. It will be my first stage race on a mountain bike which for me is great. I have ridden so many years on the road and it can be hard to keep motivated, but I know this will be amazing. Everyone that has ridden The Pioneer has only positive things to say about it and wants to go back."
With the competitive nature of these two riders, they will surely contend for the open women's category, with a win opening entry to the renowned Cape Epic in South Africa, regarded as the ultimate in mountain bike stage racing.
Villumsen was coy when pushed on whether that is an incentive or indeed if the mountain bike might appeal ahead of the road as a result of her Pioneer experience.
"This year my goal came at the beginning (Commonwealth Games) of the year so beyond this, who knows. We are taking this one day at a time for sure, but yes, something like Cape Epic might be there one day in the future, but for now, one day at a time."
Hollamby meanwhile is still pinching herself, the mother of two, Director of Stonewood Homes and decorated age group cyclist can't quite believe who she has snared as a teammate.
"Linda is amazing, I am excited about riding with her. Her CV is so impressive, I can't wait to learn from her and see how the professionals prepare and ride and how she looks after herself on a week-long event like this. It is exciting, riding with Linda is attracting a lot of attention but at the end of the day we are a team and have to look after each other."