UK BASED KIWI PAIRS UP WITH SOUTH AFRICAN AS HE CHASES ELUSIVE EPIC LEGEND MEDAL
18 March 2019
---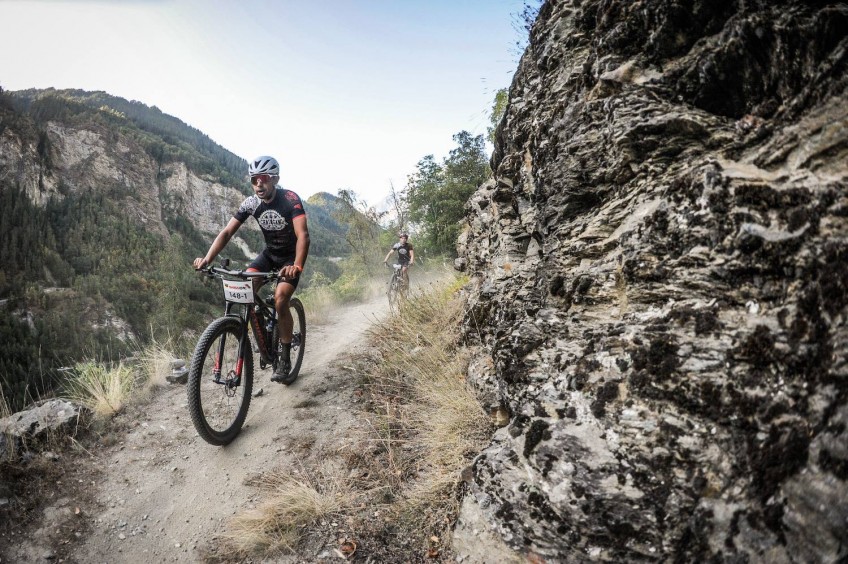 UK Based Kiwi Alexander Donaldson has done a lot in his first year on the mountain bike. The former 'roadie' has turned to the dirt and in just on one year, is riding towards a very exclusive club, with an Epic Legend Medal awaiting should he make it safely to the finish line at Val de Vie on Sunday 24th March.
With the Swiss Epic (Switzerland) and Pioneer (New Zealand) already ticked off, the Absa Cape Epic is the final piece of the Epic Series jigsaw as Donaldson chases that Epic Legend Status.
"This is my first Cape Epic and the final piece in my Epic Series. I wanted to ride here last year but I have only been mountain biking for just over a year and when that fell through I decided to ride Trans Alp, the Swiss Epic and went down and rode the Pioneer with my brother which was fun.

"This was always the goal; the hardest part was getting an entry but one of my mates told me a trick to get an early bird entry and that somehow came through and here I am."
It is an amazing achievement to have achieved in such a short space of time, but the Systems Analyst admits this behavior is not unusual for him.
"I don't like to do anything in halves, it pretty much starts with the bike. But life is short so let's go full gas."
Donaldson has been inspired by the prospect of earning that rare Legends Medal, one that awaits him provided he rides safely over the finish line after the eight stages.
"Any of these sorts of things that add motivation to what you are doing as a passion is always nice. I have taken a break from work recently so have done plenty of riding. I took two and a half months off work to travel around the South Island of New Zealand with the mountain bike. After this it will be back to the desk, the Absa Cape Epic is the main goal."
The transition to the mountain bike has been a smooth one for the New Zealander and he enjoys the atmosphere around the events and on the trails.
"It is more friendly I guess, I had no problem with either, but mountain bike seems to be a bit more of a tight knit community whereas the road seems to be how fast can you go.

"I have been riding on the road for about six years. I was doing a lot of road racing in the UK but decided I had gone as far as I wanted to go with the training and the stuff on the road. I thought I wanted to do some off-road, something different because the training gets a little bit monotonous, so that is why we went with the mountain bike."
Before setting off for his first taste of the Absa Cape Epic, Donaldson offered some thoughts on the two other Epic Series races, both of which are very fresh in his mind from the second half of 2018.
"The Swiss Epic was definitely more technical in terms of the downhill stuff, but the climbing was a lot gentler, mainly because it was steady with a lot more track and paved roads to take us up. Pioneer was tough, and I wasn't racing it full on. I could see if I was racing it would have been in the box, it was so steep at times."
Donaldson commits himself fully to anything he takes on, not surprising then that he spent some time acclimatizing, not that it all went smoothly.
"I will be here a month by the time we finish up. I did the Tour of Good Hope, I did that last year, it is good fun and gets some racing in the legs and I did the Argus and also the Mountain Bike Challenge.

"We started dead last because we rocked up late so me and my mate ended up about 50th and 40th respectively, so the racing was good, but our time management wasn't so good. It would have been much better if we had started on time! But it is always nice to open up the taps on South African trails."
Donaldson will pair up with a new partner in South Africa, one who has a similar story to his own.
"I am riding with my mate Gavin (Ryan), he is also a roadie but started many moons ago as a mountain bike rider, so he has got back on and is a bit of a natural. It is his first mountain bike stage race though, so he is going to be enjoying it as well."
Ryan is South African but given he too has only recently got the mountain bike bug, he can't offer up much in the way of local knowledge.
"This boy has some good experience and I am proud to be his team mate. I don't have any local knowledge after twenty years on the road, I got a mountain bike at the end of last year and this is it now," said Ryan.
As Donaldson rides towards the Epic Series Medal, Ryan too has that achievement on his mind.
"I am very tempted by the Epic Series, I may have missed out on the Swiss Epic entry for this year, but if it happens this year or next, it is very much a goal for me. I think it is absolutely a great concept, each event is challenging in its own way, and the scenery – it will just be spectacular if I can manage to do all three."
The approach of the two is to be cautiously aggressive in the early stages, with Donaldson indicating the thought and planning that has gone into their Cape Epic experience.
"We want to do the maximum but with control. You look at the stages and they are loaded to the front of the race, so we have to survive the first three stages in good shape. We can't go too deep otherwise we will hurt in the tail end, we will go at maximum but make sure we refuel, hydrate and do all those things correctly and see how we go. It is all for fun at the end of the day, so we are not taking it too seriously."
The pair are also hoping they don't have too many mechanicals to deal with, with Donaldson saying that any repairs will also be a team effort.
"It will come down to a bit of both of us chipping in, a bit of a team effort and we might have to pull in some resources. My bush repair skills have gone up, I managed to destroy a tyre on the Pioneer so I have put a few plugs in a tyre before so we should be alright."
Alexander Donaldson and Gavin Ryan (team Chain Gang) began that campaign in good form, posting 58:09 for 81st men's team in the opening 20km Prologue, with many longer and tougher days ahead of them as Donaldson rides towards Legend status.
The Epic Series Legend Races
Absa Cape Epic, March 2019
The pinnacle of the sport and of the Epic Series. 8 days, (prologue plus 7 stages), 650km riding, 15,000m climbing. Two-person teams. The most competitive mountain bike stage race in the world.
www.cape-epic.com
The Pioneer, New Zealand, November 2019
6 Days, 430km riding and 15,000m climbing. Beautiful and soulful riding, a wilderness mountain bike and travel adventure and yet still competitive. Ride Beyond – Find Character – Find Stunning – Find Welcome
www.thepioneer.co.nz
Swiss Epic, Switzerland, August 2019
5 Days, 350km riding and 12,000m climbing. High alpine climbs and steep descents, home of European mountain biking, quintessential Alpine scenery and competitive. Conquer the Alps.
www.swiss-epic.com
Epic Series Qualifier Races
A pre-determined number of guaranteed entries to the Absa Cape Epic are allocated to each Epic Series event, with riders earning these guaranteed entries either through performance or via the lottery draw.

Port 2 Port, New South Wales, Australia, May 2019
4 Days, 195km and 3,500m of climbing. Centres around Newcastle, with riders exploring the trails and admiring the iconic scenery in the Hunter Region
www.porttoportmtb.com
Reef 2 Reef, North Queensland, Australia, August 2019
4 Days, 190km and 1500m of climbing. Four days in the heart of Tropical North Queensland, start on the reef-fringed Coral Sea coast and feature fast flowing single trail
www.reeftoreefmtb.com
Cape 2 Cape, Western Australia, October 2019
4 Days, 210km and 2,550m of climbing. Exhilarating forest trails, backcountry and coastline in the southwestern tip of Australia