Supporter Guide
---
Course Spectator Zones
Prologue
Spectator Zone: Coronet Peak Base Building 
Catch the rolling start between 8:30am - 10:30am
Parking is in the ski field carpark. 
Stage 1
Spectator Zone: Moke Lake
Estimated first athlete 9:30am
Moke Lake is accessed via a gravel road. Please take extra care and reduce speed. As you enter the Moke Lake Camping area, a marshal will direct you to the spectator parking.
Stage 2
Spectator Zone A: Butchers Dam
Estimated first athlete: 9:30 am
Butcher's Dam is a DoC recreational reserve with some great walking and mountain biking tracks.  Take a walk across the dam and cheer the riders as they head towards Purple Haze MTB track and back up the ridgeline.
Spectator Zone B: Conroys Dam
Estimated First Athlete: 10:30am
Conroy's Dam is a public reserve within Earnscleugh Station.  There is limited parking at this location and Campervans aren't permitted in wet weather. 
Stage 3
Spectator Zone: Clyde Township
Estimated First Athlete:  9:30am
Please avoid parking on Sunderland Street as this is part of the course.  Side street parking available throughout Clyde.  Arrive early so you can watch the race across Clyde Dam.
Stage 4
Spectator Zone: Tannacreif Wines, 206 Hall Road Bannockburn
Estimated first athlete: 10:00am
Access to the spectator zone is via the course so please plan to arrive between 8:30am – 9:30am.please reduce speed and obey marshals at all times.  Grab yourself a glass of wine and pull up a camp chair and wait for your rider to come through!
Stage 5
Spectator Zone: Ice Rink in Queenstown Gardens - the final finish line!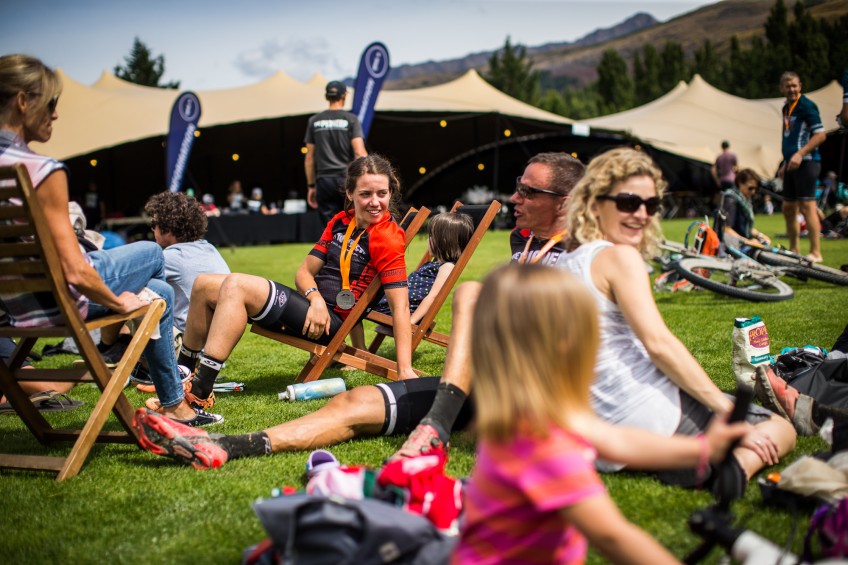 ---
Host Towns
QUEENSTOWN
The tourist mecca of NZ! Queenstown is a natural playground that offers plenty to see and do, surrounded by majestic mountains and set on the shores of crystal clear Lake Wakatipu.
Eat & Drink
The World Bar and Yonder are the official bar and café of The Pioneer. Simply show your athlete or supporter wriHost Twonstband to receive one of the following deals!
Bacon Butty and 1 small regular coffee for $13 at Yonder.
Classic Burger and a house beer for $25 at The World Bar. GF/Vegan/Vegetarian option available.
$6 happy hour pricing on all house beer, wine and spirits at The World Bar.
Yonder – 14 Church Street, open from 7:30am.
The World Bar – 12 Church Street, open from 11:30am.
Activities & Attractions
Ride the Skyline Gondola high above Queenstown to discover a view you'll never forget. Or if you're feeling a little more adventurous, find out why they call Queenstown the adventure capital of the world at the Kawerau Bridge Bungy!
Amenities
Supermarkets: Countdown – 30 Grant Rd, PAK'nSAVE – 302 Hawthorne Drive, New World – 1/12 Hawthorne Drive.
Bike Stores: H&J Outdoor World – Shopping Centre Remarkables Crescent, Bikeaholic Mountain Bikes – 109A Gorge Street.
ALEXANDRA 
This town has a golden history, dating back to the 1880s, when huge gold dredges worked the Clutha River. Today it is an attractive hub of eateries, parks, artists' studios and craft markets.
Eat & Drink
The Courthouse Cafe & Bar is set in Alexandra's original Courthouse built in 1876 and has become well known for its stunning food, great espresso coffee and friendly service.
Activities & Attractions
Visit one of the many Pinot Noir vineyards in the area, or wonder at the hardship and innovation of early gold mining pioneers at Alexandra's museum – Central Stories, located at Pioneer Park, Centennial Avenue.
Amenities
Supermarkets: Four Square – 32 Adamson Drive.
Bike Stores: Arrow Bikes – 4/9 Bush Creek Rd, Altitude Bikes – 88 Centennial Avenue.
Visit the Queenstown i-SITE visitor information centre at 22 Shotover Street for more information.