Entry Info
---
2018 Wait List
The Pioneer 2018 has now sold out.
We are incredibly excited to bring over 300 teams along for the journey of a lifetime for the third edition of The Pioneer this November.
If you missed out, we are operating a wait list process, on a first in first served basis. If a team withdraws, you will be contacted with the opportunity to take their slot.
Terms and conditions apply, please read here.
---
Entry Fee Inclusions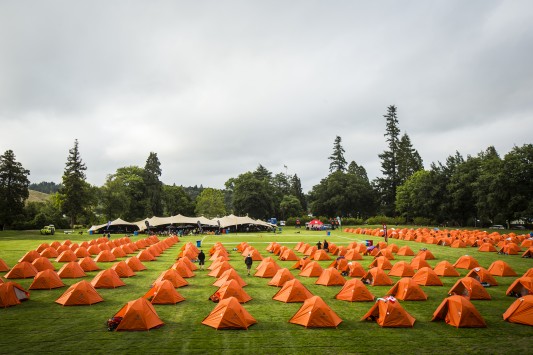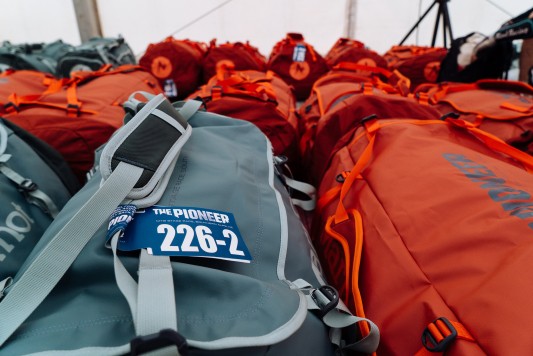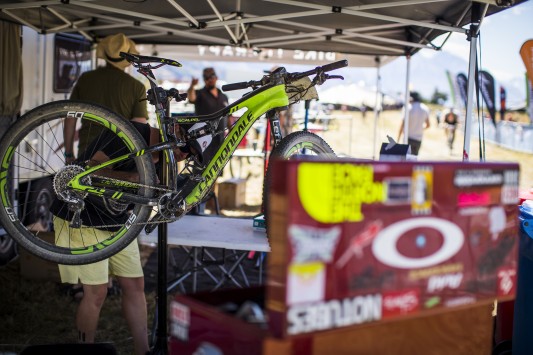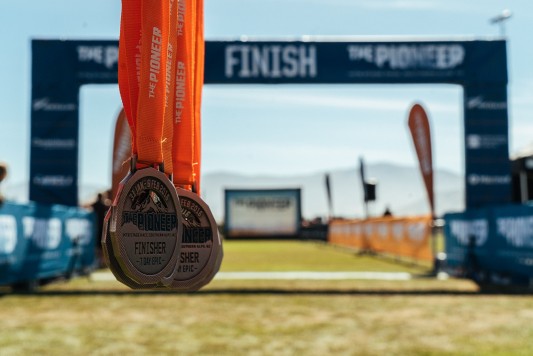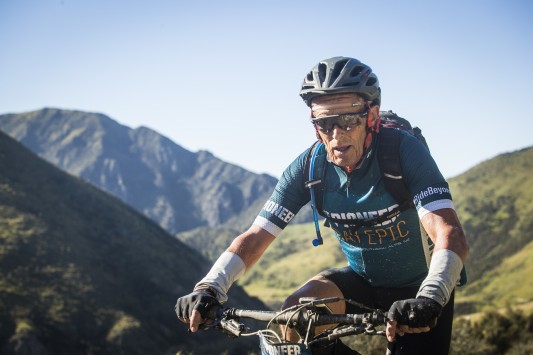 Your Six Day Epic entry fee includes the following services;  
---
Race Entry to the six day mountain bike stage race
Four nights tent accommodation in the Pioneer Race Village 

(26,27,28,29 November).

One two-man tent per rider is provided to allow for gear bag and mattress. Tented accommodation includes set-up and pack-down of tent each day.
Some meals, including breakfast and dinner in The Pioneer Race Village
The Pioneer Race Village amenities including showers, toilets and social lounge
Timing, prize money and prizes
Daily Awards at the end of each stage
On course nutrition including a recovery pack at the end of each stage
Daily check points on course to track all riders  
Transport of The Pioneer Gear bag between host towns
Race medical services on course and free on-site basic treatment in the Race Village
Basic mechanical services on course and in the Race Village. Additional costs may be charged depending on what is required
Daily results service
Bike wash and security in each Pioneer Race Village
The Pioneer Gear bag
The Pioneer Day bag
The Pioneer Drink bottles x 2
The Pioneer finisher t-shirt (must finish event)
The Pioneer Finisher's medal (must finish event)
Photography service (competitor photographs can be purchased after the event)
What your 6 Day Epic entry fee does not include:
Accommodation in Queenstown on Saturday November 24 (Athlete Check-In) and Sunday 25 November (Night following the Prologue)
Meals while in Queenstown
Lunches while in Pioneer race villages
Sleeping mattress and sleeping bag - please bring your own. 
---
Entry Fees
2018 entries have sold out. To join the wait list, click here. 
All entry fees are per person. This means team members are not guaranteed the same entry fee price as each person must register individually.
The entry price will increase once the number of available entries in that category have sold out, or by the stated closing date - whichever comes first. 
Event 

SUPER EARLY

100 Riders OR

25 November - 25 March

EARLY

200 Riders OR

26 March - 25 July

 GENERAL

200 Riders OR

26 July - 25 September

LATE

200+ Riders

26 September - 7 November   

 

Price

Price incl 3% Active Fee
 Price

Price incl 3% Active Fee

Price
Price incl 3% Active Fee
Price

Price incl 3% Active Fee

6 Day Epic

$2500.00

2575.00

 $2800.00

$2884.00

$3100.00

$3193.00

$3400.00
$3502.00
* All Entry Fees are in $NZD
ENTRY PROCESS
Registration requires one team member to register first as the team captain, and the other team member to then join a team.
Step One: Team Captain Registration. When registering as the team captain, you will be required to "create a team" name and password under the Team Information heading. Once you have successfully entered as team captain, please inform your team mate of the team name and password.
Step Two: Team Member Registration. When the second rider registers, they are required to register as a team member. As part of their registration process, they will need to select "join a team" under the Team Information heading, and here they will need to search for your team by name, select the team and then enter the password.
The Team Member must register within 10 days of the Team Captain entering.  Once both successfully entered, you will be registered as a team within the registration system.
---
Payment Plan
We understand that making the commitment to enter The Pioneer is a big investment, so we would like to offer the following payment option that eliminates having to front up with the total entry fee, all in one go! The installment payment option is as follows:
Part payment is available for a finite period, opening 24 November 2017 and closing midnight 25 March 2018.
$1000 NZD deposit required upon registration. Remaining balance will be automatically deducted from the credit card used to register in three equal amounts on 30th April 2018, 30th May 2018, 30th June 2018 (Note all additional payments will incur a 3% Active fee).
The opening price of the Payment Plan is $2800.00 NZD per rider, this will increase as per the volume based prices in the table above (first 300 athletes).
If an athlete requests a refund prior to the completion of all payment installments, upon requesting a refund, athletes will be eligible for a 50% refund of their total payments to date. If all entry fee payments have been made, the normal refund policy applies.
---
Add-on packages
Please note, you can book any Add-on Packages while entering, or at a later date through the link below, subject to availability. If you have not previously created an Active account click here (please ensure you use the same email address as you registered with). We recommend you place an order early to avoid disappointment.
---
Conditions of Participation
The Pioneer Mountain Bike Stage race is open to aspiring amateur and professional mountain bikers from around the world. Entrants must be 18 years of age as at Day 1 of the race. The race features challenging distances and terrain including lots of climbing. It is the rider's responsibility to arrive at the event with the necessary fitness and stamina level to participate.
All riders are required to sign a waiver form when entering.
---
Mandatory Gear
The mandatory gear list contains what we believe is the absolute minimum to keep you safe in the alpine environment. The weather is very unpredictable in the high country, a front can blow in and out of the mountains very quickly.
Unlike some other global mountain bike stage races, this is a remote back country event where protection from the elements and medical/support services could be some time/distance from athletes needing assistance. It is therefore imperative that the mandatory gear is carried at all times. A Gear check will be carried out initially at Athlete Check-In on both your mandatory basic gear and your mandatory emergency gear. Random checks will be made at the start chute each morning and at any time during the race.
Should you need to purchase gear in Queenstown on arrival, click here to find a list of stores you could visit. 
Mandatory Basic Gear
These mandatory and extra gear requirements need to be suitable for you if you are riding or stationary due to injury or the race is stopped for any reason. Must be carried on every stage, and is subject to change up until race day:
A Helmet
Warm hat or beanie 

(merino and not a buff)

Windproof jacket with sleeves (a hood is option but recommended)
Tool kit – 1 per team

Must contain two spare tubes (if using tubeless ensure sealant is refreshed every 2 months and carry at least 1 tube as an emergency back-up), a bike pump, a multi-tool, tyre levers, patch kit and a chain breaker (that you know how to use). A speed link/spare chain link is also useful

First Aid kit – 1 per team

Including bandages, plasters, tape, gauze, whistle and two survival blankets. We also recommend carrying pain relief medication (e.g. Panadol) for headaches, sunscreen and electrolyte replacement powder (e.g. Gastrolyte) for cramps (Cramp Stop Spray is recommended), along with other medications you might need (e.g. prescription or hay fever medication).
Additional Mandatory Gear
The Additonal Gear will only be used if advised by Race Organisers at the Race Briefing the night before or on the morning of each race day. This will be in cases of impending weather or climate changes.
Long Sleeve Thermal Torso Layer
Warm tights - we recommend merino wool or polypropylene tights
Full fingered gloves
Waterproof jacket - with tape sealed seams including a hood and sleeves.
---
Entry Policies
Online entries close on 7 November 2018, unless sold out prior.
TEAM CANCELLATION
If a registered team wishes to cancel their participation in the event for whatever the reason, the team must notify IRONMAN Oceania in writing via pioneer@ironman.com, providing his/her name, team name and contact details. 
Cancellation requests received up until midnight, 2 September 2018 will receive 50% refund of their entry fee. Entry refunds requested from 3 September until midnight 14th October 2018 will receive 25% of their entry fee. Entry fees are non-refundable from 15 of October, 2018. 
All additional purchases are nonrefundable.
If the event, or any part thereof, is cancelled, postponed, shortened, or modified in any way, or if any of the amenities, goods, or services in relation to the event are no longer provided, whether due to force majeure, legal restrictions, disputes, safety reasons, failure by service providers to perform, or any other reason or cause, the entry fees and all other fees paid will not be refundable.
RIDER CHANGES
A rider change can be made up until midnight 7 November 2018.  A $150 Rider transfer fee will be charged to the withdrawing rider.  The receiving rider will need to pay for the entry fee in order for the transfer to process, then the original rider will be refunded their entry fee less the $150 transfer fee per rider.
To carry out the process the current rider needs to:
Go to myevents.active.com and log in to their active.com account
Find the registration they wish to transfer and click the link 'Transfer the registration to another rider'
Follow the necessary steps
A $150 transfer fee will be charged to the withdrawing 6 Day Epic rider.  
Please note: the receiving rider will need to pay the current entry fee at the time of the transfer in order for the transfer to process, then the original rider will be refunded their entry fee less the $150 transfer fee.
Please note add-on packages/services purchased are neither transferable nor refundable.
FULL TEAM CHANGES
A full team change can be made up until midnight 7 November, 2018.  If an unregistered team wishes to take over the entry of a registered team, a double rider change can be performed in the online profile. The above costs and dates are applicable.
Entry Deferral
Riders who register within the first 120 days of registrations opening (24th November, 2017 – midnight 25 March, 2018) will be eligible for a deferral to the 2019 Pioneer event.  
Requests for deferral will be honored up to 45 days out (Midnight Thursday 11th October, 2018) from the 2018 event (25th November 2018).  The deferral may only be used once, and only for the Pioneer 2019 event.  Athletes who elect to defer their entry forfeit any partial refund or ability to transfer this entry.
Riders must have paid the entry fee in full to be eligible for a deferral
All deferrals will incur a $150 processing fee.
All additional purchases are non-deferrable or refundable
---
Entry Categories
The Pioneer has five different race categories, the age of the youngest team rider determines the race category: 
Men: Both riders are male.
Women: Both riders are female.
Mixed: One rider is male and one rider is female.
Masters: Both riders are 40 years or older on 31 December of the year of the race.
Grand Masters: Both riders are 50 years or older on 31 December of the year of the race.
---
Prizes
Daily Awards: a daily awards ceremony is held at the end of each day in the Race Village. This will include the awarding of the 'leaders jersey' in each age category with the fastest cumulative time for both team members after each day. In addition to this, prizes will be awarded for daily stage winners in each category.
The Final Prize giving will be held in Queenstown, prizes will be awarded to 1st, 2nd, 3rd in each age category and the below prize money will be awarded to the overall winners. 
PRIZE MONEY 
| | |
| --- | --- |
|   | 1st |
| Overall Men's Winning Team | NZD $5,000 |
| Overall Women's Winning Team | NZD $5,000 |
| Overall Mixed Winning Team | NZD $5,000 |
The overall winners in each age group category will be the team with the fastest cumulative time for both team members over the 6 days of racing.