AUSSIES RIDE TO SUPPORT THE ABOLITION OF HUMAN TRAFFICKING
29 November 2018
---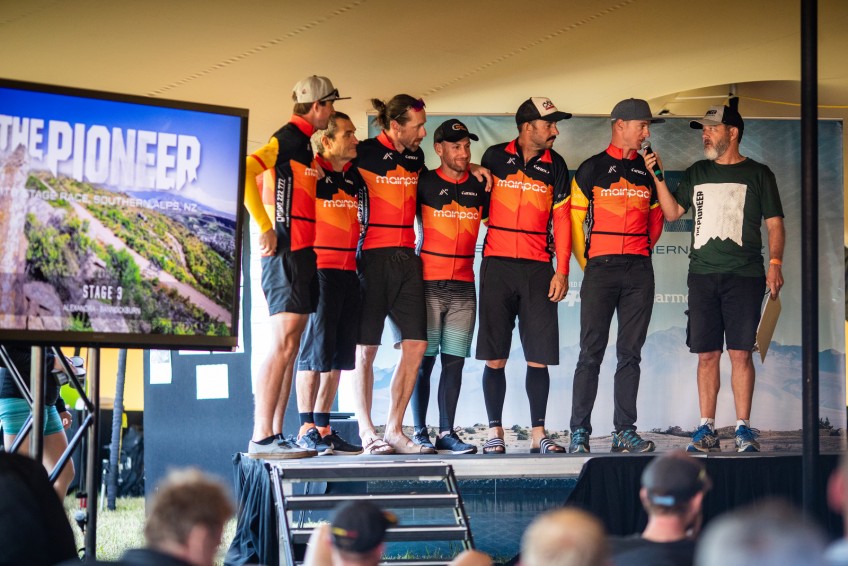 Almost every team at The Pioneer Mountain Bike Stage Race has a back story, a special reason or motivation for taking on the stunning six-day stage race through the Central Otago region. For five Australians and one Danish rider it is about a very different 'movement' of people, something far removed from riding through spectacular landscapes in the heart of the South Island.
A21 (21st Century Abolitionists) is an Australian nonprofit organization set up to highlight and stamp out human trafficking, slavery and bondage, calling themselves the 'abolitionists of the 21st century', they work with everyday people and the authorities to free slaves and disrupt the demand
Peter Lister is amongst the three teams proudly riding for sponsors Mainpac and the A21 cause, in the A21 Linc 'n' Lister team with Lincoln Carolan and spoke of what it means to be riding for such an organization.
"I am honoured and privileged to be riding for this cause, it is a great cause, one that has been around for ten years. I believe there is something special planned for Cape Epic next year for their ten-year celebration, we will head over there to tough it out as well, but nothing compared to what some of the poor people in this world have to go through.
"We have five Aussies and one Dane, all riding together in the orange yellow and black kits. The A21 organization is passionate about fighting against human trafficking and helping the plight of people who are truly in a hopeless situation.
"They have been around for ten years and have put behind bars people to a total of 303 years for trafficking offences and arrested over a thousand people for trafficking, that is done by people like you and me, with the aid of a helpline. A21 reaches out, informs through billboards at major airports, school programmes and they then go and rescue and work with the authorities to work with government and non-government organisations to care for those that have been rescued with food, shelter and clothing."
Lister says riding for such a global cause puts their daily efforts at The Pioneer into a broader context.
"It doesn't make what we are going through any better on The Pioneer when the riding gets tough, but what I am going through is my choice, I can back off, it is my choice. What a lot of these people are going through they have no choice, it is up to people who have some degree of influence and ability to make a difference. Many of us are very privileged in the world we live in, and we should use that for influence, not just for privileges sake."
Darren Covington is a board member of A21 and a passionate mountain biker and should have been in New Zealand as part of the team riding The Pioneer, but he had some misfortune just weeks out from the event.
"Darren should have been here with us, but he is home watching the updates and live feed. He broke his leg a couple of weeks ago while preparing, he had to opt out and we brought in a young rider at the last minute. We are encouraging Darren to get fit and ready and join us at Cape Epic next year though because this is his idea and his passion. A21 do a 'Walk for Freedom, I guess ours is more of a 'ride for freedom' for the same cause."
Lister can't speak highly enough of his Pioneer experience either, managing to push their cause, contend for the Masters category, and have a blast all at the same time.
"I am loving it, I have ridden a few stage races in Australia, but this is something else, we are being so well looked after. The riding is mega tough, but the scenery is amazing, we have stopped a few times and said wow, look at that view, it is a beautiful, beautiful place. The camaraderie too is incredible, we are fighting for 2 and 3 in our category, we are just at it, but friends on and off the track, and that is awesome to be a part of."
The A21 riders are some of many that are taking on The Pioneer for reasons beyond the incredible challenge and the chance to 'ride beyond', many teams are raising money or awareness for a cause or charity, or simply riding to say they have taken on and finished one of the world's leading mountain bike stage races, with The Pioneer enhancing its reputation as part of the Epic Series, alongside the Absa Cape Epic and Swiss Epic events.
A21 Teams at The Pioneer
A21 Linc'n'Lister, Peter Lister and Lincoln Carolan
A21 AAA, Peter Selkrig and Soren Wenck
MToss Racing, Andrew Fell, Michael Harris