EPIC LEGENDS AND QUALIFYING RIDERS REFLECT ON AMAZING WEEK
25 March 2019
---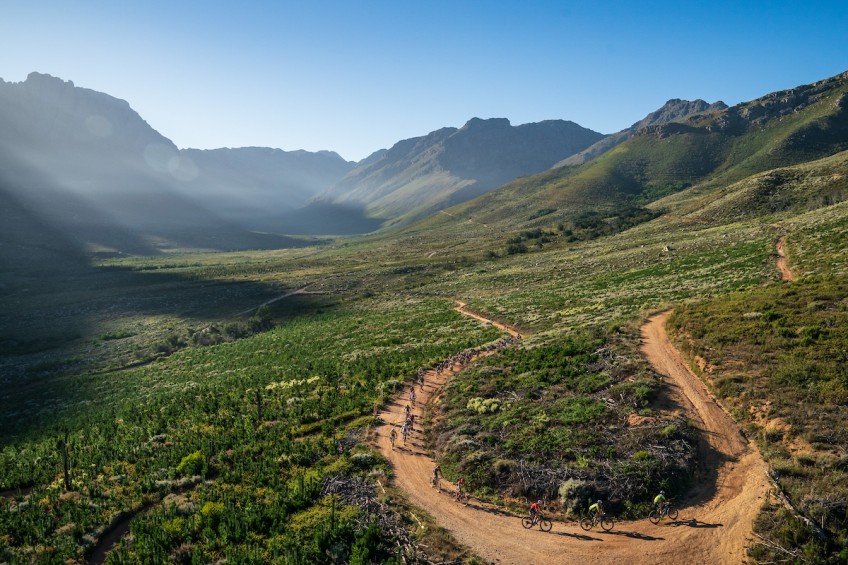 Epic Legends old and new reflected on an incredible eight days of riding but also eight days that will forever be etched in their memories as moments that will define their lives.
Peter Felber was one of 8 riders coming into the 2019 Absa Cape Epic to already have achieved Legend status, having completed the Pioneer (New Zealand), Swiss Epic (Switzerland) and the Cape Epic in South Africa.
"There is nothing like the Epic eh, nothing. The riding here, there is nothing like it, Swiss Epic is cool and technical, New Zealand is lovely with the scenery and the people, but there is nothing like the Cape Epic.
"The finish line is a moment for tears every time, for big and small boys I guess!" Mario was super super strong, we have been singing every day on the trails, half Austrian, half Swiss – I think that says it all.
"I will be back next year for sure, if all goes well."
Fellow Legend Medal holder Enrico Theuns could not hold back the tears at the finish after riding home with Sander van den Born.
"It is great, I can't describe that, it is a great feeling to get that with my partner, it makes me cry again. It is still that special feeling, for coming back, the emotions of the last 10km. I am almost 54 but still I start crying. There is more yes, I will see you again definitely!"
Joining the previous eight Legend Medal recipients were two more riders from this year's Absa Cape Epic, and both were New Zealanders, with Alexander Donaldson and Kylie Burrows completing the EPIC SERIES treble of events.
"This is amazing, what an awesome mountain bike race," said Donaldson. "To get here and see the manicured lawns and riding through the vineyards, it is just an Epic event to use a cliché. This week has gone so quick, I did one Instagram post and here we are one week later.
"The priority when Gavin was injured was to make sure he was okay and then get to the finish. Bike racing is bike racing, there is no point racing for 80th, we are here to enjoy it and if I can get an EPIC medal as a result, that is the cherry on top."
Kylie Burrows has not only taken on and conquered some of the world's toughest mountain bike stage races, but in the process has come through a battle with breast cancer that put her riding on hold for 18th months, there was nothing going to keep the kiwi and her Aussie riding partner Sarah Kaehler from the finish line today though, coming home over an hour inside the stage cut off of seven hours.
"Yes, I am going to have a very special medal, thank god I got to the line, that was the main thing today, stay on to the finish and get that medal!
 "Mentally it was really tough, but we were lucky again with the guys riding around us, they were cheering us on and supporting us. The last three days especially for me it was a mental game more than physical."
Bjorn Tschenett qualified through the Swiss Epic, winning a lottery guaranteed start to race at the 2019 Absa Cape Epic. The Swiss rider paired up with good friend Bernhard Aebli and could not hold back the tears at the finish line.
"This is amazing, unbelievable, a dream come true. My girlfriend is here, we have supporters here, this is just amazing, from the Swiss Epic to an event I have dreamed about for years."
Another to qualify through the Epic Qualifying Series was Mark Knowles, the Aussie won a lottery spot at the Reef to Reef in Australia.
"That is just the best. We have had a ball. The hills, wow, so tough. I think the hills make it so special. I won a lottery entry at the Reef to Reef and went from there. Peter and I had originally teamed up to do Reef to Reef, but Peter had a little accident a week out, but I won the entry and here we are. If anyone gets that opportunity, ride the Aussie events and take it."
Kiwi Grand Master pairing of Tim O'Leary and Shaun Portegys qualified after winning that category at their home event last year, The Pioneer. They
"I can't believe the start to the week we had, the first three days were just amazing, it was beyond our dreams to be on the podium with the superstars and legends of mountain bike riding, in particular, Bart (1996 Olympic gold medalist Bart Brentjens), it is hard to believe a couple of guys from New Zealand were mixing it in that company," said Portegys.
"It is a tough week, you just have to keep going, it is harder than the Pioneer, it is a tough ride," said O'Leary. "It was dry, dusty, and hot for the last few days. It is, however, a great achievement, that is what we are here for, it will sink in over the next few days."