FIRST LONG DAY ONE OF DRAMA AND EXCITEMENT AT PIONEER
6 February 2017
---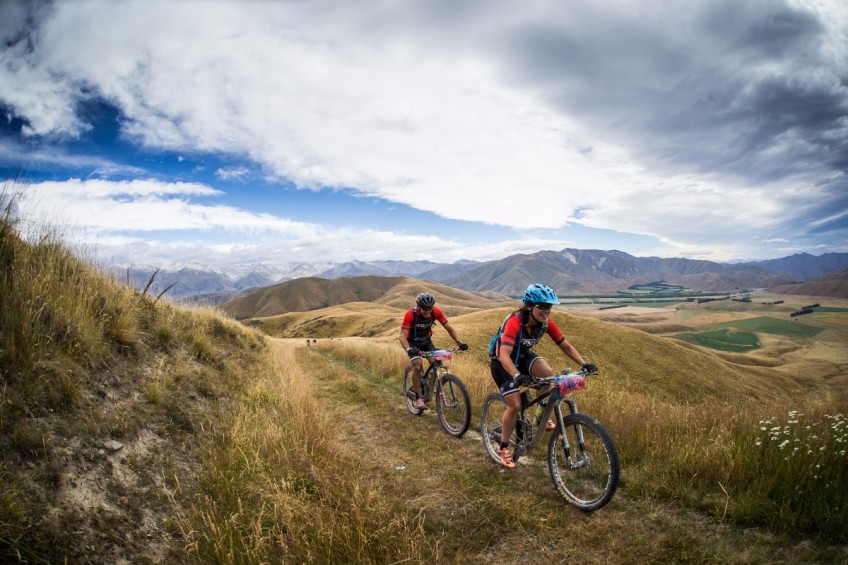 There was drama and excitement aplenty on stage two of The Pioneer as the Mountain Bike Stage race took the 338 riders over the 106km course from Geraldine to Fairlie on another blistering hot day in the Central South Island.
Line honours were contested by three teams in a sprint finish, with the win going to Imparables riders Ibon Zugasi and Tommi Misser (ESP) as they nudged out Kiwis James Williamson and Scott Lyttle (Watson & Son Manuka Honey), with Oamaru brothers Tim and Kris Rush (Alps to Ocean) right on their wheel after just over four and a half hours of hard riding.
In winning the stage the Spaniards extend their considerable lead in the Masters 40+ category, while Williamson and Lyttle extended a further 41 seconds on the Rush brothers in the Men's Open category.
The Open Mixed race had a major spanner thrown in the works though, more specifically into the hopes of American/Canadian team Freakshow, with Sonya Looney and Gordon Wadsworth losing 24:59 on category leaders Mark Williams and Kate Fluker (Team New World) after a crash that saw Wadsworth all but wreck his rear rim and ride on gingerly after replacing the tyre and tube.
"We had an awesome day today," said Looney despite the disappointment.
"We rode hard and were working super well as a team, but that is racing, sometimes you have good luck and sometimes bad. There was a humungous rock, bigger than our heads, somehow it came loose and Gordon hit it and did a flip in the air and thank goodness he is okay but the rim just folded over. It took a long time for Gordon to fix it – I was just a spectator at that point, offering positive encouragement. But he was able to fix it and we could finish our day, which was our main goal. We are happy to be here, we had fun today, it is disappointing for sure but there are multiple days to go and we can still race for stage wins."
Wadsworth suggested there was a bit of MacGyver going on to make the repairs.
"We do a lot of back country riding back home too and you have to be prepared for what you will face and today it was a big old boulder that sent me flying. We managed it and realized how far ahead we were at the time, we were killing it at the time in fourth or fifth overall. The good news is we could sit up a bit and take in the beauty around us."
Looney then summed up the wonderful approach of the duo best as she smiled and said
"This is stage racing, it happens. You just have to do your best, have fun and ride your arse off."
Williams knew that their main opposition was in trouble, but at first thought it was nothing more than a puncture.
"That was really hard, it is really tough on the flat sections, you can go at your own pace on the climbs but on the flat you have to just try and hang on to some groups. They (Freakshow) went out hard and tagged on to the lead group, we could see them in the distance and they had a minute or two on us but they obviously punctured. That is stage racing though, their misfortune was to our advantage today, tomorrow it could be different."
The Open Women's category continues to be led by the irrepressible Nina McVicar and Reta Trotman, the Christchurch pair are usually heard before they are seen approaching the finish line and when they do, their smiles are a mile wide through any pain they might be suffering.
"It is not up for negotiation, that is blooming hard work, the whole way," said Trotman.
"Rule number one is have fun," said McVicar. "We like to think the person who has the most fun wins, regardless of where they come, so that is our first rule. The second is to communicate and keep chatting to each other, because Rita was so much stronger today. It is understanding that and not pushing too hard when the other rider is struggling."
"It is also about being inspired," said Trotman. "Nina has been riding for just two years, she is amazing and inspires me, I am holding on for dear life behind her on the single track. It is just awesome, the riding and the people, it is just brilliant."
4-Day Traverse riders completed the stage knowing that they are already halfway through their event so might sleep easier tonight knowing that they are in effect riding towards 'home'.
Leading the Open Men's is the impressive Australian based Italian, Manolo Zanella who won his second consecutive stage, finishing ahead of Nathon Wright to extend his general classification advantage to a mighty 20:34 at the halfway point in stages – if not in distance.
The women's 4-Day Traverse is also being dominated by one rider, with Amy Haddon making it back to back stage wins to extend her overall lead to 30:53 over Harriet Beaven.
After resting in Fairlie tonight, the Pioneer takes riders on an 80km journey to Tekapo on Tuesday, with 2,747 metres of climbing to further test the legs. Stage 3 gets underway at 8:00am Tuesday morning.

Stage Two Results
Geraldine to Fairlie, 106km, 2,480 metres elevation
Full results CLICK HERE
7-Day Epic
Open Men
Watson and Son Manuka Honey, James Williamson & Scott Lyttle NZL, 4:31:15
Alps to Ocean, Tim Rush & Kris Rush NZL, 4:31:56
Imparables 3, Vitor Gamito & Miguel Sivestre ESP, 4:50:34
Open Women
Hirepool, Nina McVicar & Reta Trotman NZL, 5:17:45
Sujon Thermatech, Erin Greene & Ingrid Richter NZL, 5:21:56
Amy/Haley, Haley Van Leeuwen & Amy Hollamby NZL, 5:36:20
Open Mixed
Team New World, Kate Fluker & Mark Williams NZL, 4:53:53
Freakshow, Sonya Looney & Gordon Wadsworth USA, 5:18:53
Crank it Cycles/Specialised, Peter O'Sullivan & Su Pretto, NZL, 5:54:30
Masters 40+ Men
Imparables 2, Tommi Misser & Ibon Zugasi ESP, 4:31:15
222 Racing, Chris Clark & Gary Hall NZL, 4:52:48
Terre Active IT Security, Shaun Portegys & Brendan Akeroyd, 5:01:13
Masters 40+ Women
Cable Logging Geraldine, Kylie Burrows & Sarah Kaehler NZL, 6:37:49
Dumb and Dumber, Annie Cooper & Delia O'Malley NZL, 2:08:46
Peak Flow, Karolyne Dunn & Cath Watson NZL, 2:09:04
Masters 50+ Men
Sniffer and the Rampant Ferrett, Paul Riordan & Stephen Davies, 5:30:43
Forensic Plus One, Robert Watson & Bernie I'Ons, 5:34:24
Centaur, Paul Muldoon & Grant Tyrrell, 5:39:43
Masters 60+ Men
Canadian Eh, John Cockburn & David Lech, CAN, 7:02:27
4-Day Traverse
Stage Two, Geraldine to Fairlie
106km, 2,480m elevation
Open Men 
Manolo Zanella, 4:44:44
Andy Cartwright, 5:01:06
Alex Beaven, 5:09:56
Open Women
Amy Haddon, 5:36:18
Harriet Beaven, 6:05:43
Karin van der Walt, 6:21:20
Men, Masters 40+
Nathon Wright, 4:53:29
Ross Weston, 5:07:36
Werner Folscher, 5:15:40
Women, Masters 40+
Catherine Ballantyne, 6:05:52
Suze Hansen, 6:38:32
Kim Fuller, 6:41:05
Men, Masters 50+
Graeme Young, 5:07:48
Rodney Grant, 5:12:01
Patrick Maslen, 5:27:17
Women, Masters 50+
Nola Urquhart, 6:23:10
For more information contact:
Andrew Dewhurst, Media Manager, The Pioneer
+64 (0) 21 535501, andrew@gracieproductions.co.nz
About IRONMAN
A Wanda Sports Holdings company, IRONMAN operates a global portfolio of events that includes the IRONMAN® Triathlon Series, the IRONMAN® 70.3® Triathlon Series, 5150™ Triathlon Series, Iron Girl®, IRONKIDS®, six of nine International Triathlon Union World Triathlon Series races, road cycling events including the UCI Velothon Majors Series, mountain bike races, premier marathons and other multisport races. IRONMAN's events, together with all other Wanda Sports Holdings events, provide more than 680,000 participants annually the benefits of endurance sports through the company's vast offerings. The iconic IRONMAN® Series of events is the largest participation sports platform in the world. Since the inception of the IRONMAN® brand in 1978, athletes have proven that ANYTHING IS POSSIBLE® by crossing finish lines at the world's most challenging endurance races. Beginning as a single race, IRONMAN has grown to become a global sensation with more than 260 events across 42 countries. For more information, visit www.ironman.com.
About Wanda Sports Holding
Wanda Sports Holding is the world's leading sports business entity, founded to capture the opportunities in the global sports industry and to contribute to the prosperous international sports landscape – in three key areas: 1) Spectator Sports (media & marketing business), 2) Participation Sports (active lifestyle business), 3) Services (digital, production and service business). Led by President & CEO Philippe Blatter, Wanda Sports Holding incorporates the international sports marketing company Infront Sports & Media, the iconic endurance brand IRONMAN, and Wanda Sports China. The headquarters are in Guangzhou, China.