NEW COURSE AND FORMAT FOR 2018
10 November 2017
---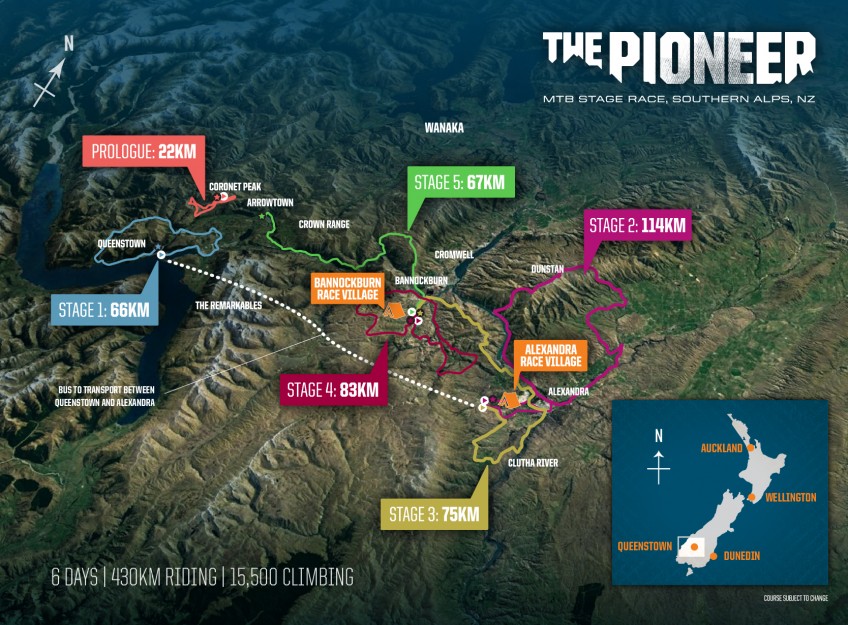 The much-anticipated course overview for the revamped Pioneer Mountain Bike Stage Race was announced today, revealing six days of incredible riding from November 25 to 30 2018, linking the best back country riding in the South Island on a course that starts and finishes in Queenstown.
Riders in the November 2018 race will start their six days of riding with a 22km prologue at iconic Coronet Peak, with five longer stages to follow, taking riders as far south-east as Alexandra and the Clutha River, before returning to the finish line back in Queenstown.
Race Director Bec Williams says much thought and planning has gone into today's announcement, to ensure the long-term sustainability of an event that quickly established its reputation as a world leading event in its first two editions.
 "Today we provide the mountain bike community with an overview of the 2018 Pioneer, providing information that will allow riders to make decisions about entering the event, and understanding just what it is they are taking on.
 "Riders can look forward to a course that will boast plenty of single track and will deliver a grand tour of the most stunning backdrops you could ask for. Riders will be sent deep into remote back country New Zealand, where they will really discover what it means to be a Pioneer."
Many of the trails cross private land and can only be ridden while racing The Pioneer, so it's a once in a lifetime opportunity to gain access to best riding in New Zealand. Riders should expect big scenery and big climbs as they ascend tussock covered hills, traverse mountain ranges, explore secluded valleys and revive the spirit of the original pioneers.
Williams said the decision to reduce the duration of the event by one day and start and finish in Queenstown will generate further appeal to riders and supporters.
"Having the one start and finish location obviously makes the event easier from a logistics point of view for organisers and riders alike. Travel can now be booked in and out of Queenstown, supporters can base themselves there throughout The Pioneer, and it will be easier for our suppliers and contractors to support the race.
"But it was vital that any of those decisions did not compromise the quality of the riding or the Pioneer experience, and we have done that with a course that will again challenge every rider, provide breathtaking views along the way and see us hosted in some amazing Central Otago towns."
Those towns to host Pioneer riders in 2018 are: Queenstown (start and finish), Alexandra (two nights) and Bannockburn (two nights) before the event finishes at Arrowtown.
Terrain will vary each day, but includes a mix of local trails, farm track, NZ Cycle Trails and single track – so riders should be prepared to really see what they (and their bikes) are really made of. Overall, the course is non-technical, so a good set of lungs will be the most important asset.
The course will be clearly marked, and full course maps will be provided over the course of the next few months as more detail is revealed, but navigation skills are not required, each stage will have several check points and aid stations to keep riders on-track and well looked after.
Each day's racing finishes in a host town with local hospitality on offer at the event village, ensuring each stage is unique and enjoyable. To cap it all off riders will finish back in Queenstown, an amazing place to celebrate an incredible achievement.
Riders will again have the chance to secure entry to the unofficial world championship of mountain bike stage racing in South Africa, with five age group winners, five age group runners up, and five lottery winners securing a place at the Absa Cape Epic for 2019.
For some riders that will mean finding a team mate. The event website allows the uploading of profiles to find a Pioneer team mate, and organisers also host a 'find a teammate' Facebook group.
New this year is the option of an entry fee payment plan for athletes. This option will be available for a limited period, opening 24 November 2017 and closing 25 March 2018 and allows entry fees to be spread out across four payments.
The 2017 Pioneer saw 338 riders take part, 286 males and 52 females. Riders came from all around New Zealand (151 from out of the Central Otago region) and the world, with an incredible 154 international riders flying into New Zealand from Australia (95), Great Britain (13), Spain (8), USA (8) and Canada (7).
The Pioneer 2018 – MTB Stage Race Southern Alps, NZ
November 25 – 30, 2018
430km of riding and 15,500m climbing  
Stage information
| | | | | |
| --- | --- | --- | --- | --- |
| Prologue | Coronet Peak | Own accommodation | 22km | 1500m |
| Stage 1 | Queenstown - Queenstown | Alexandra | 66km | 2878m |
| Stage 2  | Alexandra - Alexandra | Alexandra | 114km | 2750m  |
| Stage 3 | Alexandra - Bannockburn | Bannockburn | 75km | 2600m |
| Stage 4 | Bannockburn - Bannockburn | Bannockburn | 83km | 3100m |
| Stage 5 | Bannockburn - Arrowtown |   | 67km | 2800m |
 Estimates of the type of riding throughout the Pioneer
36% - 4WD/Farm Track
35% - Cycle Trails / Single Track
15% - Gravel Road
14% - Sealed Road