RIDERS INSPIRE JUST IN MAKING IT TO START LINE
28 November 2019
---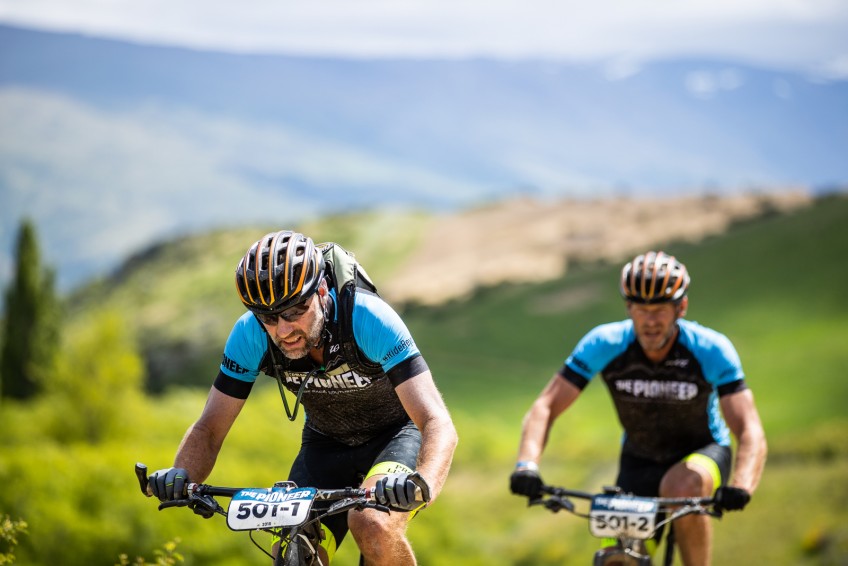 While much of the attention at the 2019 Pioneer, fuelled by Nutri-Grain will be on the elite riders battling at the front of the field, it is those further down the timing, some battling just to get to the finish line – indeed some that have battled to get to the start line that will capture plenty of attention over the course of the six-day mountain bike stage race.
Starting on Sunday with the prologue at Moke Lake and then heading out through, over and around the Southern Alps in the Central Otago region, the event covers 441km of riding with 13,000 metres of climbing so is not for the faint hearted but has attracted many riding with incredible back stories.
Doctor Richard Medlicott is typical of many of those inspiring teams ready to take on that considerable challenge, looking to raise money and awareness for a chronic illness that many in the medical profession don't know a whole lot about.
Medlicott has set up a Givealittle page for the cause and is looking to raise $5000 through his participation with team mate Ken Scharf Jnr (USA) as Team Kea/Eagle in The Pioneer toward educating doctors on Myalgic Encephalomyelitis or Chronic Fatigue Syndrome, ME/CFS.
Medlicott, who will be on his second Pioneer Mountain Bike Race, called it "a brutal challenge".
"So is living with ME," said Medlicott, who stressed he is a part time bike rider and no expert on ME/CFS.
"I'm another GP who's learned some stuff and I think the ME Awareness site is really good for GPs to go and have a look at because there's evidence-based information there. And the evidence is honest, saying there's so much we don't know and so much we don't understand."
For Ali Brownlee and Cole Burmester (Mount Maunganui) the journey to the start line has been a long and deferred one, putting off riding last year when both found out they were set to become dads, they are back riding as Movember ambassadors, looking to raise money and awareness of men's health issues, with a target of $15,000 equating to just over one dollar per metre climbed during the event.
"Not enough kiwi men are prioritizing their wellbeing, and this is having a massive impact on our lives and those around us," said Cole. "We are proud to be riding as Movember ambassadors, an organisation at the forefront of men's health. With funding and programmes working across mental health, suicide prevention, testicular and prostate cancer, and an overall commitment to men living healthier, happier and longer lives.
"We are regular guys and wannabe 'athletes' who both became dads for the first-time at the end of 2018 to Jake and Toby. Just as men all over New Zealand are doing, we are juggling family, friends, health and wellbeing, and careers, endeavouring to find balance between it all."
Stephen Goodall (Australia) is one who is delighted to have made it to the start line, due to race last year, the Victorian broke his T11 vertebrae and occipital condyle at the base of his skull while training and has made the long journey back to full health and has the stamp of approval from his doctors to line up with team mate Martin Rostron as the Wazza Duo.
The Kisiel's out of America line up together, with Ken and Jessica celebrating turning 50 with a week at The Pioneer as Team Kisiels@50. Their story goes deeper than that though, with Jessica having overcome many medical challenges to be in The Pioneer, including breast cancer last year.
A former pro rider who represented USA at the 2004 World Champs, Jessica Kisiel was plagued with knee injuries and surgeries during her cycling career. Shortly following the peak of her cycling achievements, Jessica was diagnosed with severe osteoarthritis in her hip and suffered debilitating back pain that forced her off the bike. Too young for the recommended hip replacement surgery, she explored alternative therapies and discovered the Egoscue Method® of posture alignment therapy. Through realigning her body and regaining lost muscle function, she's been able to return to sports and competitive athletics, including mountain biking, trail running and cross-country skiing.
Marty Taylor and Warwick Jones are two of the more unlikely starters, with Warwick sitting in traffic at Roaring Meg last year watching Pioneer riders cross in front of him and thinking 'gee, I gotta do that next year', to the more unlikely story of his partner Taylor (Wellington) who was for a short time in July 2018 paralysed from the chin down after a bad fall on ice at Turoa. Surgery and a slow recovery on the wind trainer has led to The Pioneer, where Taylor says just making the finish line will be an incredible achievement.
Two American visitors are showing their incredible perseverance and stubbornness in returning in 2019. Patricia George and Hap Farber ride as Team PHenomenal Hope, a non-profit dedicated to improving the lives of patients with pulmonary hypertension (PH). They return after being challenged by injury and exhaustion in 2016, better prepared and even more determined to reach that finish line yet again, for an amazing cause.
Ashburton bar owner and former Coast to Coast competitor Matt Fine can't run anymore due to a knee injury and needed a new non-impact challenge to shed a few kilo's. The Pioneer was found for him, a bike purchased and 32 kilograms were lost on the way to the start line.
While there are plenty that have overcome the odds to get to the start line, some like to put things in the way. So it is with Shannon Stallard and Ed Whiting, who return to The Pioneer without the comfort of rear suspension. These two 'old school' riders are set to take on the six days, 441km and 13,000m of climbing on hard tail bikes, and may need a good chiropractor to help them in the days after the event!
Amongst those riders with amazing stories are the event's Founding Riders, those who have attended each of the four Pioneer events. That list features a number of leading riders such as Kate Fluker and Mark Williams, but sadly will not include Michael Booth (Auckland) who came off his bike in the final few weeks of training and was forced to withdraw, luckily finding a replacement for his team mate and fellow Founding Rider David Ferrar.
Competitors range in age from 19 to 72 (average age 44) and represent 24 countries, with Australia the largest contingent outside of New Zealand with 57 riders making the trip across the Tasman. South Africa, home to the pinnacle event in the EPIC Series the Absa Cape Epic, has 24 riders, America 12 and Spain 11 while one of the more fascinating stats is the seven riders registered from Iceland.
New Zealand riders will arrive from around the country, with 92% travelling from outside the Otago/Southland region to take part in the event, many bringing family and friends with them to act as support crew.
The 2019 Pioneer gets underway on Sunday December 1st, with the first riders away at 8am on the prologue course at Moke Lake, before riders head away on a 400km journey that takes them to overnight camps at Lake Moke, Alexandra and Bannockburn, before the final stage sees them return to the finish line in Frankton on Friday December 6, on the ridge off Hawthorn Drive, overlooking the Kawarau River and the Remarkables.

2019 Pioneer Inspiring rider selection
Patricia George and Hap Farber (USA), Team PHenomenal Hope, #327
The PH stands for pulmonary hypertension, with Patricia and Hap riding for the non-profit group looking to improve the lives of PH patients around the world. They know the challenge after taking it on in 2016 and know the joy of the finish line after the struggle of the ride. Adding to their incredible selfless story is that Hap is the oldest in the field at 72 years old.
Shannon Stallard and Ed Whiting, New Plymouth, Team Taranaki Hardtails, #135
A couple of Taranaki multisport nuts choosing to ride a little more uncomfortable as they go old school on hard tail bikes.
Ken and Jessica Kisiel, USA, Team Kisiels@50, #313
Jessica is a former pro rider who has overcome many injury challenges and last year breast cancer to make the start line at The Pioneer. Too young for hip replacement surgery, Kisiel was a pioneer herself in exploring alternative therapies and through that research and exploration, has returned to sports, including mountain biking.
Stephen Goodall and Martin Rostron, Australia, Team The Wazza Duo.=, #454
Stephen makes it to the start line after a serious crash in training for the 2018 race left him with a broken T11 vertebrae and base of his skull, as well as numerous other scrapes, bruises and damage. His goal has been to get healthy and get back on the bike, he has made it.
Ali Brownlee and Cole Burmester, Tauranga, Team The Handlebar Dads, #143
Ali and Cole had their entry deferred from 2018 when both discovered their wives were pregnant. Now dad's to Toby and Jack, they are back in 2019 and looking to raise awareness and money for the Movember Foundation and men's health, with $15,000 the goal, a dollar for every metre climbed.
Dr Richard Medlicott NZL, and Ken Scharf Jnr USA, Team Kea/Eagle, #422
Doctor Medlicott is riding his second Pioneer, raising money and awareness to educate doctors on Myalgic Encephalomyelitis or Chronic Fatigue Syndrome, ME/CFS.
Matthew Fine and James Kay, Ashburton, Team Kelly's Café & Bar, #113
Matthew has had quite the journey to the start line, the Asburton bar owner was challenged by one of his staff as 'carrying a little extra weight'. The former coast to coast competitor had blown out a little after a serious knee injury curtailed his running but that conversation and a bike purchase has seen him lose an incredible 32 kilograms.
Warwick Jones (Queenstown) and Marty Taylor (Wellington), Team Mammoth, #627
Warwick was an interested spectator last year, watching riders go past him at Roaring Meg while Marty has returned from a serious fall on Turoa in 2018 that left him paralysed for a short time and on the wind trainer for much of his build up.
2019 Founding Riders:
Kylie Burrows, David Ferrar, Kate Fluker, Erin Greene, Mike Holland, Nina McVicar, Andrew Percival, Mike Sangster, Gianluca Valsenti, Johnny Van Leeuwen, Mark Williams, Kent Wilson, Graeme Young.
Countries represented in the 2019 Pioneer, fuelled by Nutri-Grain
Australia, Brazil, Canada, China, France, Germany, Great Britain, Hungary, Iceland, Israel, Japan, Malaysia, Netherlands, New Zealand, Philippines, Republic of Ireland, Russia, Scotland, South Africa, Spain, Switzerland, Turkey, USA, Wales.