STUNNING ELITE FIELD LINES UP
27 November 2019
---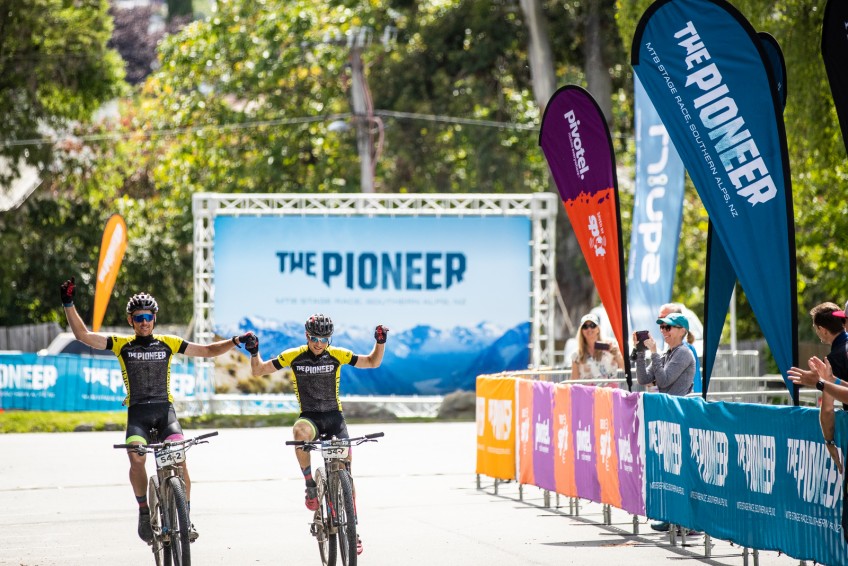 The 2019 edition of The Pioneer, Fuelled by Nutri-Grain is shaping to be the best yet, with strong competition at the front of each of the main categories and no shortage of inspiring stories throughout the field.
Close to 400 riders from 24 countries set to line up in Queenstown on Sunday for the prologue at Moke Lake and will go on to cover 440km across six days with 13,000m of climbing that will test the legs, but deliver stunning views across the Southern Alps and Central Otago trails.
While many will be focused purely on finishing and perhaps taking in a few of the sights along the way, the front of the field will be head down and chewing the handlebars as they race for overall and category honours.
Race Director Danielle Sherman can't wait to see the week unfold.
"The reputation of The Pioneer is spreading around the world and beginning to attract a higher quality of international riders to take on some of the best New Zealand has to offer and there is no doubt that 2019 is going to be the best so far in that regard.
"It also looks like we have a real trans-Tasman rivalry in just about every category this year, and we love a battle with our friends from across the ditch. Off the bike we will show them a wonderful Kiwi welcome and deliver an amazing week, but on the bike, I think they are in for a heck of a battle with our leading New Zealand combinations."
Leading the way is the return of defending open men's champions Michael Vink and Tim Rush (Onya Bike North Otago), open women's champions Amy Hollamby and Kate McIlroy (Stonewood Homes) and mixed champions Joe Skerman and Josie Wilcox (JoJo).
Vink is fresh of winning back to back Tour of Southland titles, a result he sees as a good omen to also repeat at The Pioneer.
"I won the tour of Southland last year, and obviously that set me up pretty well for the Pioneer. I think multi-stage mountain bike racing is physically more like racing road racing than anything else mountain bike related, so it should suit me pretty well. The key is recovery, and I've certainly done a lot of racing this year, so I'll be super fit going into it and I'm not afraid of six hard days back to back, which is what the Pioneer is."
Rush has also highlighted his good form coming into the event, fresh off an impressive win at the Whaka 100, in the process relegating leading Aussie and Pioneer contender Brendan Johnston to second.
In the women's open category, Hollamby and McIlroy will be tough to beat, all the more so knowing that they are likely to be stronger than last year, even though former Olympian and star of athletics, triathlon and road cycling McIlroy these days balances fulltime work with a mix of road, mountain bike and multi-sport events.
"I am definitely coming into the 2019 Pioneer with much more confidence than last year when I had only been on a mountain bike for six weeks. I have raced a few more mountain bike events – Nationals, Karapoti and Port to Port in Aussie which has helped improve my skill level and am generally feeling more confident about what mountain bike racing is all about.
"The last six months I have primarily been on my road bike, racing around the country in the Calder Stewart Series/North Island Series and the Taiwan KOM Challenge. It's definitely a balancing act with work-racing-training - trying to stay healthy and not get too tired isn't always the easiest thing to get right."
Josie Wilcox and Joe Skerman won a fascinating duel with two-time champions Kate Fluker and Mark Wiliams, moving ahead on the final stage into Queenstown. Preparation has been a little sketchy for Wilcox, but she can't wait to return.
"For me it's been a challenging time of the year. I've been completing placement hours fulltime at the hospital (radiography school) as well as juggling final graduating exams, interviews and training. Then three weeks ago I fractured my finger. This hasn't stopped me though and I've been working hard on the bike under the guidance of Mark Leishman."
Skerman is juggling running two dairy farms in the Manawatu and raising three young boys with his adventure racing wife, but he is fuelled by great memories of last year.
"My memories of last year were finishing the final stage. I will never forget it; it was my hardest day of riding ever. I was completely exhausted not knowing if we had won or not but was just so relieved to have got over the finish line and to stop riding.
"There were lots of learnings from last year as it was our first stage race. I learned that everyone wakes up each day during the Pioneer going "oh my god I'm cooked" but once you get racing the body fires up."
While competition will be fierce in the open categories, there will be great rivalries started and renewed in the master's categories also, and it is a former road riding legend leading the way in Gordon McCauley in the men's masters with teammate Jarrod Harris. McCauley was fearless throughout his career, winning a medal at the Commonwealth Games and earning a reputation as one of the toughest riders on the planet, that reputation will be put to the test over six challenging days on the trails of Central Otago.
Meanwhile the exclusive Founding Riders club is further whittled down to just 14 remaining riders who are back and yet to miss a Pioneer. Amongst them are mixed stars Kate Fluker and Mark Williams and former winners or podium finishers Erin Greene, Nina McVicar and Johnny Van Leeuwen.
"Our founding riders are the heart and soul of what this event is all about, such an amazing group who continue to show incredible commitment and passion for this event," said Sherman.
"While the elites may get the glory, for us as event organisers it is those further down the field who are our biggest inspiration and in many ways the reason we get out of bed in the morning to work on events like The Pioneer, they are all amazing, each with their own back story and motivation to come and have the week of their lives in a stunning part of the world."
2019 Founding Riders:
Michael Booth, Kylie Burrowns, David Ferrar, Kate Fluker, Mike Holland, Nina McVicar, Andrew Percival, Mike Sangster, Gianluca Valsenti, Johnny Van Leeuwen, Mark Williams, Kent Wilson, Graeme Young.
Competitors range in age from 19 to 72 (average age 44) and represent 24 countries, with Australia the largest contingent outside of New Zealand with 57 riders making the trip across the Tasman. South Africa, home to the pinnacle event in the EPIC Series the Absa Cape Epic, has 24 riders, America 12 and Spain 11 while one of the more fascinating stats is the seven riders registered from Iceland.
New Zealand riders will arrive from around the country, with 92% travelling from outside the Otago/Southland region to take part in the event, many bringing family and friends with them to act as support crew.
The 2019 Pioneer gets underway on Sunday December 1st, with the first riders away at 8am on the prologue course at Moke Lake, before riders head away on a 400km journey that takes them to overnight camps at Lake Moke, Alexandra and Bannockburn, before the final stage sees them return to the finish line in Frankton on Friday December 6, on the ridge off Hawthorn Drive, overlooking the Kawarau River and the Remarkables.
Countries represented in the 2019 Pioneer, Fuelled by Nutri-Grain
Australia, Brazil, Canada, China, France, Germany, Great Britain, Hungary, Iceland, Israel, Japan, Malaysia, Netherlands, New Zealand, Philippines, Republic of Ireland, Russia, Scotland, South Africa, Spain, Switzerland, Turkey, USA, Wales.
2019 Pioneer, Fuelled by Nutri-Grain 
Leading teams (a selection of those likely to contend for category honours, by no means exhaustive!)
Open Men
Michael Vink (Oamaru) and Tim Rush (Oamaru), Team Onya Bike North Otago. The defending champions return, and both are in great form, with Vink going back to back at the prestigious Tour of Southland road race while Rush was victorious at the Whaka 100, in the process defeating one of their likely rivals in Brendan Johnston (Australia). The quality of Rush and Vink is without question and the two gelled perfectly as a combination last year.
Jon Odams and Brendan Johnston (Australia), Team Giant Australia Off-Road. The gun Aussie pairing arrive as Triple Crown champions in 2019, taking out the overall honours at Port to Port, Cape to Cape and Reef to Reef events in Australia this year. Both are experienced mountain bikers and have made for an awesome combination since pairing up a year ago.
Ryan Sissons (Cambridge) and Sam Osborne (Rotorua), Team Winger Hamilton. The wildcard amongst the leading contenders, with Sissons ITU triathlon racing pedigree without question and Osborne a multiple winner on the XTERRA circuit this year and fourth at the 2019 World Championships. They are great mates and quality athletes, but can they go the distance and bring endurance to their already considerable CV's?
Sebastian Jayne and Sam Fox (Australia), Team Marathonmtb.com. More used to cross-coutnry racing, can the Aussies find the endurance to stay quick over six days? Jayne has raced in the UCI Marathon (XCM) Series this year as well as the UCI XCO World Cup and represented Australia at both the XCO and XCM World Championships in 2018 and 2019. Fox is coming off the Tour of Southland (on the road) and races in Germany so will have his legs under him from day one. A first for both in a pairs stage race though but keep an eye on them.
Open Women
Amy Hollamby (Timaru) and Kate McIlroy (Wellington), Team Stonewood Homes. Defending champions and with a further year of mountain bike riding under McIlroy's belt, they will be hard to beat. They combine perfectly, complimenting strengths and weaknesses and bringing a fierce competitive streak that you know will have them competing throughout the week.
Nina McVicar (Otago) and Reta Trotman (Christchurch), Team New World St Martins. 2017 champions back together but with very different lifestyle situations as both are more immersed in study and work than riding these days. But you know they will have been sneaking in a few training rides away from the glare of Strava and hoping to have a big week.
Open Mixed
Joe Skerman (Bulls) and Josie Wilcox (Palmerston North), Team JoJo. Defending champions in what was a thrilling category in 2018, as they rode past previously unbeaten Kate Fluker and Mark Williams on the final day to win by a matter of minutes. Will be wanting to back that up knowing that Fluker and Willy will be keen on revenge, this will be fascinating.
Mark Williams and Kate Fluker (Queenstown), Team New World - Pivot. Two-time champions until beaten in 2018 and even then, it was only on the final day that they gave up their title. Both are so personable and friendly off the bike, but you know the fires will be burning brightly to regain top spot, even more so as the event is in its final edition in their hometown region.
Holly Harris and Michael Harris (Australia), Team SRAM MTOSS. The brother and sister combination that will add another dimension in what is already a great category. Winners of the Australian Triple Crown (Port to Port, Cape to Cape, Reef to Reef), the Harris siblings will look to ride an extra couple of days at The Pioneer and challenge for the win.
Karl Michelin-Beard and Emma Viotto (Australia), Team Shimano Pushys Cannondale. Another hot Aussie combination lured to New Zealand by the challenge of The Pioneer.
Johnny Van Leeuwen and Haley Van Leeuwen (Dunedin), Team MTBVL Adventures. The husband and wife pairing from Dunedin who will be keen to stay in the equation throughout the week. Haley is already an Epic Legend medal recipient, for completing the EPIC series of Cape Epic (South Africa), Swiss Epic and Pioneer.
Others to watch…
Gordon McCauley and Jarrod Harris, Team Daikin Thermal Solutions. Riding in the Masters category, legendary road rider Gordon McCauley teams up with good mate and fellow 'roadie' Jarrod Harris. McCauley is the only rider to have won all big three New Zealand Road (5 titles), Time Trial (3 titles) and Criterium titles, he is a two-time winner and record 23-time starter at the Tour of Southland and won bronze in the time trial at the 2006 Commonwealth Games.